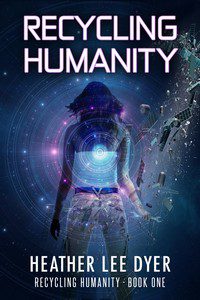 Earth is dying. Humanity prepares for the next step. One girl may hold the key to survival.
As mankind clings to life in space habitats above their dying home, 17-year-old Kaci Lee is hopeful of the future. After all, she worked countless hours to get her space pilot's license, the first of many meticulously-planned lifetime goals. She's well on her way to achieving everything she's ever wanted.
Unforeseen dangers during a routine recycling mission force Kaci to land on the mostly-evacuated Earth. Surprisingly, she meets Abishai on the planet's surface, the handsome son of a famous and mentally-unstable scientist, Dr. Kincaid. Together, Kaci and Abishai must survive in the face of radiation sickness and a freak superstorm. Little do they know that Abishai's father possesses the greatest danger of them all.
Dr. Kincaid has a secret. A secret that could kill Kaci. A secret that could wipe what's left of the human race.
Recycling Humanity is the first book in a YA sci-fi dystopian series that features intergalactic action, surprising plot twists, compelling characters, and a kick-ass female heroine. If you liked The 100, The Lunar Chronicles, or The Partials Sequence, then you'll love this new space adventure.
Buy the book to start this exciting new series today!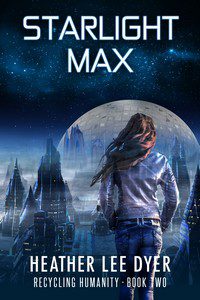 A prisoner. A pilot. A world that's lost without their help.
Kindra Ara thought that working for the deranged Dr. Kincaid would help buy her way to freedom. Without parents to turn to, Kindra and her autistic best friend Alix formed a family and dreamed of their own spaceship to live on. When Kindra learns of Kincaid's dangerous plans with a stolen cache of weapons, he sends her far away from Alix to the secure cryo-prison Starlight Max. It's only after waking up out of stasis she realizes Kincaid has stolen two years of her life.
A Commander with a secret agenda breaks Kindra out of prison; an agenda that will bring her face-to-face with Jupiter Station pilot Kaci Lee. Together, Kindra and Kaci must rescue the other orphans Kincaid enslaved while stopping the unstable scientist from putting mankind's migration plan in danger. Without their help, humanity may soon breathe its final breath.
Starlight Max is the second book in a YA sci-fi dystopian series that features interstellar action, captivating suspense, and a pairing of two tough-as-nails female heroines you won't want to miss. If you like The Lunar Chronicles, The 100, or The Partials Sequence, you'll love the second installment in Heather Dyer's action-packed space adventure.
Buy Starlight Max to continue the interstellar series today!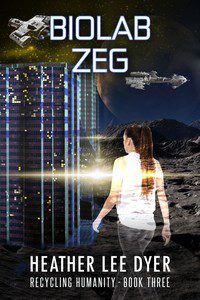 A secret biolab. Dangerous mercenaries. One girl must lose everything to save the rest of humanity.
Time is running out for the last remnants of humanity. They must migrate to another solar system in order to survive. 17 year-old Sadie Kerum has been training to become an engineer and pilot, but she's not very good at either job . Secretly, she's found her passion working on the hidden Biolab Zeg where Dr. Evans, a terraforming expert, is training her.
While helping rescue a shipful of orphans near Biolab Zeg, mercenaries attack Sadie's ship. She must risk revealing her carefully held secret in order to save her precious cargo.
But the mercenaries aren't the only dangers she must face. Sadie is soon caught in the middle of a  deadly power struggle between people that want to alter humanity's future at any cost. Only sadie can sort through the secrets and lies to save humanity from the danger from within their own leadership.
Biolab Zeg is the third book in the Recycling Humanity YA sci-fi dystopian series.
FUN FACT: Zeg is the Georgian word that means the day after tomorrow!